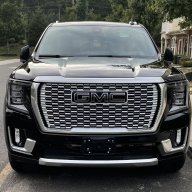 Joined

Dec 18, 2021
Posts

67
Reaction score

44
Hello,

Recently purchased a 2022 Yukon Denali XL with wireless charging included.

Wireless charger worked fine with my iPhone 12 in its case, tested with multiple phones.

After getting the 14 pro it would not work with or without a case. It just keeps turning on and off.

After some google searches I found this is a major flaw from Apple due to the camera bump, only affecting the iPhone 14 pro not the pro max. The camera bump causes to large of a gap between the charging pad and magnets in the phone.

I tried adding a MagSafe case which has additional magnets in the case for charging and other attachments, no luck there.

Now I'm using a wired connection which is also forcing my phone to use wired car play and the wireless auto play is not really working anymore.

This is aggravating and I understand it's Apple problem and hopefully they will come up with a solution whether it be an adapter or special case to correct the issue ( doubtful)

For now I plan to get an apple usb c MagSafe charger to lay in the charging dock so I can still do wireless charging and wireless Apple car play.

Has anyone else come across this and found any workaround for this issue?


Thank you in advance!!!