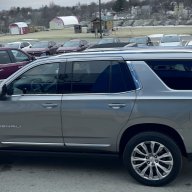 Joined

Nov 13, 2022
Posts

45
Reaction score

54
Big Red, our 2004 Suburban, has been in the family for about 6-7 years. Overall, he's been quite reliable and has done an excellent job of serving as our Big Ass SUV. I'm expecting to take delivery of our new Yukon Denali 6.2 in just a few days (it's in transit).
I was planning to sell Big Red since our garage (actually pole barn) storage space is limited and the Yukon will serve the role of Big Ass SUV. But I am now wavering—Big Red has been reliable, still runs well, and has up to date brakes, tires, and suspension components. I've generally adopted the approach that if something needs doing it's worth paying for it, with the notable exception of replacing the rear a/c lines; we simply plugged them and use the front vents for cooling.
What do you think? I'm considering one of three scenarios: sell it; keep it as is; or put $10,000 or so into making it cosmetically great, fixing the a/c and attending to a couple of minor issues like the inoperative rear wiper. I'm a little torn.