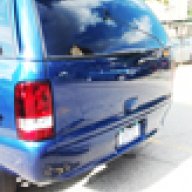 Joined

Apr 19, 2011
Posts

128
Reaction score

9
Location
Hope your all well !!!!
Checking for some interest
going to post pics in a cpl days
figured id post it here first even tho i havent been here in ages
Blue color
needs help in these areas
paint, suspension, can use some new rims, vacuum leak code (just havent gotten around to get it done)
minor stuff like window washer motor or hose , needs a side mirror , and a cpl other minor common stuff
escalade front
escalade cluster ,, i still have the tahoe one that reads 65k
has the blue led on some of the dash buttons,
3rd row
*** RARE front row middle jump seat
got the dual radio cage and the bezel that goes with it ,,,, rear view camera with small monitor in dash ,,,,, never finished to hook it up
roll pan u can see in pic
new break lines and breaks and rotors, battery, alternator ,,,,
she drives and got power , I drive her everyday
just hit 101k, tranny got about 40k on it
got the dark with grey interior
i wish i had the right guy to work on her as she needs it but,,,,, it
i hate to see her go but dont have the time to invest in it ,,,,,,but shes still has plenty of life
stay safe
***UPDATE***
added some pics
yes I know she needs a bath
How much do you all think I can get for her ??
thx
Last edited: