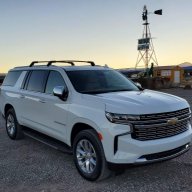 Joined

Jan 19, 2022
Posts

119
Reaction score

62
Is there a way to link user profiles to each key fob so that when the vehicle starts up, it will change the profile in the Infotainment system based on which key is in the vehicle? (e.g. vehicle starts up with my profile/settings and presets when my key is in the car and my wife's profile when she is driving the car?

I have tried creating the profile with the only desired key in the car but it hasn't worked for me.

Additionally, is it possible to set First-to-Connect for each profile individually? I.e. If I get in first and the vehicle detects my key/profile, it will link connect to my phone's BT as opposed to my wife's. If my wife's profile is active, it will first connect to her phone.

And lastly, is it possible to tailor the DIC settings/layout to the profile? I like as much information as possible so I choose classic view for the dash but my wife wants it to be simple/easy to read so she switches it to Digital or Clean.

Hoping to find ways to automate all of these things instead of needing to manually adjust them. I've tried playing with settings and searching through the manual and I cannot figure these out.