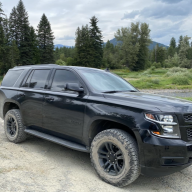 Joined

Jan 9, 2021
Posts

229
Reaction score

258
Hey everyone,
hoping to get some help as far as ideas of where to start with troubleshooting this issue.
I was driving on the interstate today and the guy in front of me kicked up a metal fender that was lying in the highway and it got flung right into the left front of my Tahoe. Super crappy, and especially since the dude saw what he did and immediately took off.
I'm going to call my insurance company in the morning and see if I can just pay the deductible and be on my way without my premium going up. (Hopefully it's comprehensive and wont change my rate).
I'll also go to a repair shop to get a quote because the bumper, grille, shutters, and plastic trim around the fog-lights needs to be replaced.
Anyway, after this road debris hit my front end, my turn signal stopped working.
Headlight functions fine, just no turn signal in the front, causing the rear to hyper flash. My dash displays the message "left turn indicator failure".
I'd like to have a working turn signal before I can get it into the shop.
Where should I start? Try replacing the turn signal bulb?
Any help is appreciated.