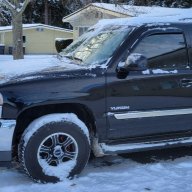 Joined

Oct 31, 2021
Posts

8
Reaction score

8
I've been creeping these forums for the past couple months while deciding which parts to buy for a basic 2 to 3" lift/level and bigger tires without breaking the bank.
Quick backstory, last year a few months before I got deployed, I bought Big Bertha, a
2005 Yukon SLT 4x4
, at a decent price of $4500. Got her at 183K miles and did an oil change, checked fluids, fixed a few minor check engine light issues, airbag sensors and replaced the worn rear brakes with
Power Stop K2046-36 Rear Z36
. Took her on a 2.5k mile round trip from Seattle area to San Diego. It's in decent condition but it needs further service now that's she's at 203k miles. She rocks a lot when cars pass me, especially big rigs, so I'm replacing struts and springs. She has the Smooth Ride suspension with fat struts and ZW7/G65 codes. She also needs new tires. Now that I'm back from deployment, I'm giving her a BBL then taking her on that trip again next weekend.
Big Bertha came with Pathfinder Sport AT 265/70/R16 tires on aftermarket rims. I don't like how small those tires look on the huge wheel wells so I'm looking at 33's/BFGoodRich 285/75/R16. So I bought the following last night on Amazon:
Supreme Suspensions 2" Spacers
- $50
Supreme Suspensions 1 - 3" Torsion Keys
- $90
Bumpers
- $11
MOOG 81069 Coil Spring Set
- $69
Moog K160072 Coil Spring Insulator
- x2 $22
Bilstein 24-186643 Front Shocks and Bilstein 24-187237 Rear Shocks
- $375
Total around $675 after taxes.
Suspension:
I'm starting to think I should of instead bought the Bilstein 24-185783 for the Rear since they're rated for 3" lift and I'm adding a 2" spacer in the rear and I just read somewhere that the Moog 81069 adds an extra 1 to 2" in lift. I'm also considering towing my wife's 3258lb car during the trip if my transmission can handle it. Any tips on this will be greatly appreciated. Is the setup I purchased a good enough suspension upgrade for heavy cargo during family road trips, towing and clearance for 33's or should I switch to other parts? Everything I bought has a 30 day return period.
Brakes:
I'm still researching if I can do a big brake upgrade for the front. Don't know if the NNBS+ setup fits inside my 16" wheels. Alternatively, looking at
Power Stop K2009-36 Front Z36
. Big bertha has dual piston calipers all around already. Not sure if it comes like that from factory or if the previous owner installed them.
Performance:
Considering upgrading intake and exhaust, then tuning once suspension and brakes are done, most likely after the road trip. What do you guys have or recommend?
Sorry for the long post. All input is appreciated. My ultimate use goal for Big Bertha is for roadtrips, camping, overlanding, Baja trips, and towing no heavier than a car or travel trailer.
Last edited: