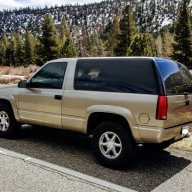 Joined

Sep 21, 2021
Posts

21
Reaction score

44
I'm sure this has been discussed, but here we go again.
The legendary split bench front seat.
When I sat down with the dealership back in 98' and ordered from the factory 2 door, I said yes to every option, and got it loaded.
Was told no rear ac, duh. No heated seats or mirrors, found out later it was done on some, not sure if by factory or ???
And no sunroofs on 2 doors, bummer, love the sunroofs.
Anyways, I found out about these seats many years later and have been on a quest to locate one.
Anyone have one on there 2 door? If so how do they slide forward to gain access to the rear seat etc? Pics?