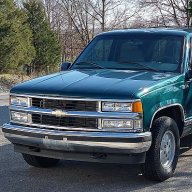 Joined

Mar 23, 2023
Posts

187
Reaction score

273
I didn't realize how long until I started trying to remember. Had a couple of Novas including a '75 ( the boxy one ) and a '73 Chevelle Malibu. Then I went to Plymouth Furys and a '79 Chrysler Newport in the 8a0s as well as a 70 something Mercury Grand Marquis. In the 90s, I picked up a couple of different Ford Escorts and a '84 Chevy Camaro (that had an odd 'Vette style engine) and later an '89 Mercury Cougar. In the early '00s, I got a Chrysler Sebring and Ford Taurus wagon, both of which I'm still driving.

The Sebring should be gone next week for basically wholesale. Tired of crawling down into it and trying to pull myself up out of it and whatever I get out of it will go towards the Tahoe.

So, in about 40 years, this is only my second Chevy.