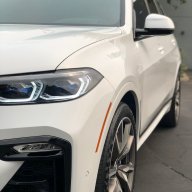 Joined

Nov 22, 2021
Posts

115
Reaction score

106
I'll just come out and say it, for all the praise this platform seems to be getting in the reviews, I'm absolutely not impressed with the ride quality. I thought IRS was supposed to improve ride quality and handling however I have yet to experience it after ~700 miles of ownership.

Overall, it rides slightly better than the bouncy Trail Boss I had a few years back. Mine is is a 2022 LS Suburban with the 20" wheels and running the recommended 34/35 psi. It definitely improves a bit when fully loaded but still, I didn't expect it to ride pretty much like a pickup truck. The other comparison is an 07 Avalanche (GMT900) on 20" with standard suspension that felt much more planted and "luxury" ride.

Not only is the Suburban overly bouncy IMO (both at slow and high speeds) but when hitting expansion joints on freeways it feels unsettled and borderline scary at times (just like what I've experienced in my 1/2 ton Silverado trail boss). In the last 6 months our family has rented both a previous gen 20 Suburban and Expedition. As far as I can remember the previous gen Suburban didn't ride much better than the T1, however the Expedition seemed a lot more comfortable and composed, with and without load. I do see many reviewers praise the expedition for its on road manners. I obviously should've test driven the Suburban before buying but there were literally 0 available when I ordered…

Our other vehicles are an X7 and a Sienna. The X7 is obviously in its own league and I didn't expect anything near it from the Suburban (if anything expected it more couch-like) and really found disappointing how bouncy and unsettled it feels.

Anyone else feeling the same?