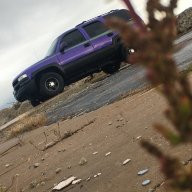 Joined

Nov 20, 2019
Posts

60
Reaction score

46
Location
Hey all!
I've scanned over a few fuel issue threads, none have applied to mine.
Working on my 2003 Tahoe, 5.3 Gen 3 V8. Had a double lean code for each side, changed intake gaskets, knock sensors, and ran a secondary ground from the back ground strap as a precautionary. No nodes, but now she likes to bog out after coming down from high Rpms.
I've done a smoke test on the intake, as it's aftermarket(I cut the old ducts off, installed clear heavy plastic see though), and I have no leaks. I should mention, the intake is a straight tube now, smooth inside.
Now comes my question, I've purchased a fitting for the fuel rail, and a guage. Removed the valve interior, and tightened the fitting, and then secured the gauge. (It is upside down). I started the truck, after noticing nothing on the gauge after "key-on" position. Started the truck up, and still nothing.
Am I missing something? It revs up but sounds like she's starving for fuel. Slow increase in Rpms has no effect, but a quick push to the floor results in bogging, and a shudder, and it shuts off. Unless, I catch the Rpms and tap the gas less and less to Let it down easy.
Any ideas? Going to be picking up a fuel filter as it most likely needs changed. I just replaced the original starter on the truck with 238k miles on it.