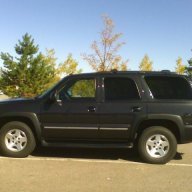 Joined

Mar 10, 2016
Posts

473
Reaction score

766
Location
Ever since I installed an Android tablet into the Tahoe for navigation, music, and diagnostics and monitoring, I have wanted to include TPMS in the display. However, the PIDs for the tire pressures don't seem to be anywhere on the internet. So, after a LOT of research, scanning the Class 2 bus, and brute-force testing I have finally got it working. Scanning the bus while my Tech 2 was monitoring the pressures got me in the general vicinity of the PIDs and helped me to work out the correct header, but it reads them differently and in a manner that I couldn't duplicate with Torque. Also, the IPC doesn't seem to request them. Apparently it just picks them up whenever the PDM periodically broadcasts them, again something that I couldn't make Torque do. Since I couldn't find a module that was requesting the information to copy the message from, I had to resort to another way of finding the information. So I decided to go on the assumption that the programmers did build in a request set for the tire pressures and started hunting. After testing MANY, MANY, MANY possible PID values, I finally found a group that had data that matched my tire pressures. I then set up the screen and drove around a bit to see if they matched the DIC as the pressures changed, and they did!
An interesting side note, at least in some trucks, the spare also has a TPMS sensor. I didn't know this until I was reading tire pressures with the Tech 2 and there is an option to turn on spare tire pressure monitoring. It was quite a while back that I discovered this, so I can't remember if mine was turned on from the factory, or if I turned it on. It probably was already on, otherwise I don't know why they would have included the sensor. But, there is no way of getting it without the Tech 2, until now!
For anyone who is interested in reading the tire pressures, this is the PID info for Torque:
Description PID Units Min Max Formula Header
Left Front Tire Pressure 22248E psi 0 100 A 6CA1F1
Right Front Tire Pressure 22248F psi 0 100 A 6CA1F1
Right Rear Tire Pressure 222490 psi 0 100 A 6CA1F1
Left Rear Tire Pressure 222491 psi 0 100 A 6CA1F1
and the one they don't show you in the instrument panel
Spare Tire Pressure 222492 psi 0 100 A 6CA1F1
You can create your own long and short names to suit your preference.