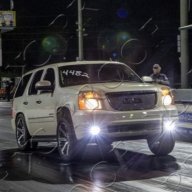 Joined

Sep 29, 2017
Posts

5,142
Reaction score

15,614
Location
Kinda new here, some familiar faces from other sites
Story up till now:
Had been looking for a Sierra Denali for a while, most were 2wd, salvage title, or way out of my price range. Along came this Yukon sitting at a Toyota dealership on the lot for $38k, 2012, awd, WDT/black leather, less than 50k miles, nav/dvd/rear entertainment/bose/ heated/cooled seats, heated wheel, sunroof, 3rd row, 20s, tow package, 2nd row buckets, and whatever else. We ended up striking a deal at about $31k out the door. In my happiness i overlooked a few key items, nothing to bad though.
The hood, looked like someone sprayed half a gallon of clear over the base layers it lasted about 4 months before it literally came off like a sheet of clear vinyl. It bugged me for way to long, white diamond tricoat is a pain match and material itself drives the price up, just finally had just the hood completely stripped and painted last month, came out pretty nice i think, it just needs to have orange peel knocked down and i'll be happy.
The dash, had a "nice" cover over it...ripped it off as soon as i got home. It cracked along the center channel speaker and airbag. to be swapped at a later date. i melted it back together to atleast keep it from speading, that lasted a few months but it has cracked it again
The engine! so i drove it for a few weeks and it started having a bad tick at start up that would last maybe a minute or two if i let it idle, if you jumped in a drove it it would go away almost immediately. Had a cheap filter in it, figured oil wasnt any better. so i grabbed an ac delco and some mobil 1, changed it.... it got about 10x worse! Luckily truck was/is still under full power train warranty till October. I drop it off at GMC dealer, kinda play stupid and say it making some noise at startup. They diagnose and agree, tells me it's all covered under warranty. They "clean up" the top end (not to sure what that meant, but o well) throw it all back together and still no good, they call me up a few days later say they're pulling the engine to tear it down and see if it can be fixed - seeing as how i'm not paying for any of this i dont make to big of a deal and tell them go for it. A week or so goes by, i had a couple access badges in the center console so i ran by to grab them engine out, torn all apart. Crank bearing wiped, threw metal shavings throughout engine, they still tried to rebuild it. I get a call on a friday "truck is back together, tech wants to run it for the weekend make sure alls good, change fluids out, give it back to me monday". i say yea no problem. so going on like week 3 of them having it i get a call the next tuesday - engine is toast, we ordered a long block we'll have it another week. It was at the dealership longer than i had owned it for at that point, but they got it back together, engine all sparkly clean runs damn good!
After all of that, The only things i have done:
pull window rain visors? off, i dont know what you call them. They had been on there a long time had to eraser wheel off the adhesive left behind.
Removed the factory nav unit and installed an android head unit, that was not much fun- it came prewired with a canbus adapter for up to 2011GM, but i had to hack it off and wire it up to a PAC gm canbus adapter, another adapter for the rear seat, back up cam.... took a while to get it figured out but it is all in and working for the most part. If you're interested in an android unit definitely get one with the 8-core processor and atleast 2mb ram. The one i ordered was absolutely horrible at first, took forever to boot up, just one app would lag it out for a minute, i was very close just to putting stock back in. I saw over on XDA forums there was an upgraded processor so i gave it try and it is miles ahead of what it was and acceptable as a replacement for the nav unit. I wanted the android for waze, torque pro, spotify apps... It has a slot for a sim card but i just hotspot from my phone works great.
airraid jr. intake tube and high flow dry filter in
black bear auto cal tuned engine/transmission
onto future.....