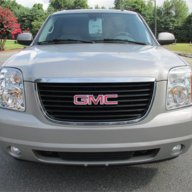 Joined

Aug 30, 2018
Posts

282
Reaction score

268
Location
So Currently our Yukon XL has the Bose Factory headunit with DVD Rear seat video on the ceiling.
What I want to eventually include.
Retain Steering wheel controls,
Retain video playback on ceiling
Retain IR headphones if possible(since I just bought replacements)
Adding backup camera(Headunit display or rear view mirror we don't use on-star)
Adding lane change cameras(under mirrors possibly)
Adding our Video library to the vehicle, probably via kodi.
Of course it has to be easy to use for my wife or she'll strangle me, she wasn't a fan of the last stereo I installed.
My thoughts were using a Android Based Headunit, retaining the Bose amp/speakers it's good enough for us for now.
Stereo something similar to this: Seicane
https://www.seicane.com/2007-2011-c...en-dvr-wifi-tv-steering-wheel-control-s018723
I imagine I probably could keep the cameras separate from the stereo just by using a rearview mirror with video(anyone seen the new 2019 Silverado/Denali mirror, full screen backup cam) If I could figure out how to wire the two cameras with auto switching to the mirror without breaking the bank.
As for a Video library, just has to be easy to navigate, I can run KODI or a Plex Server in the car, maybe with a Rasberry pi with a small SSD, and maybe one day add wifi and tablets for the kiddos... but that's unimportant right now, as they can share whatever.
I don't know just looking for ideas.
Thanks.