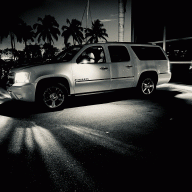 Joined

Apr 16, 2014
Posts

10,233
Reaction score

17,230
FOR SALE



Fosscore's 2006 Chevrolet Tahoe LS 4.8L 2WD


80,000 miles (plus a few more from driving around town)
Asking $12,250.


I have sat on this moment for a long time, but need to put this amazing truck up for sale.

We have sold our house and are moving to Australia to be closer to my wife's family in Sydney.

Too much paperwork and expense plus the possible conversion to right hand drive, high petrol prices and small roads to entertain shipping the truck across the Pacific.

So here we go.

My build thread starting on page 1 has the full list of all the modifications, maintenance, color match paintwork, detailing, etc...done to the truck over the last 6 years since being a part of TYF. I have also listed that front page below.

This truck is in amazing shape. The interior looks great. A few very small spots on the dash where that typical NBS top coating has rubbed off. A few interior panel scratches (mainly in the rear cargo area) and minor lower bottom door panel scuffs that are negligible. New carpet, bow tie floor mats and headliner plus all seats in great shape. No rips or tears, just general use. The 3rd row seating is not installed as I did not want to cut the carpet. The seats and the inserts are included with the truck.

The 14 year old OEM exterior paint still shines like new. There are a few small bumps and nicks/paint chips given its age. It is not flawless, but gets compliments all the time for how clean and shiny it is.

If not being driven, it is always under the cover and gets a full paint detail at least twice per year, including the normal detailing/wipe downs. The undercarriage looks great with minimal surface rust from living near the beach. The engine bay is clean with some surface rust on bolt heads and a little oxidation.

No claims, never crashed, clean title in hand and clean CarFax.

PM with any off thread questions, and we can talk/text further on mobile as needed.

My work schedule has me traveling a lot lately, however I expect to be home 8-18 June 2020 (as of this posting), then head back out again, if you are interested an.

Truck is located in Fort Lauderdale, Florida. A couple members have had trucks shipped, if you want to go the route and they will know how much it costs and companies to use.

Lots of pictures and write ups are all over my build thread here.

https://www.tahoeyukonforum.com/threads/fosscores-2006-tahoe-build-thread.65729/

The list noted below is also on Page 1 of my build thread.

Modifications List as of June 2020.
80,000 miles (+ a few additional miles from driving around town) 2006 Tahoe LS 4.8L 2WD Exterior Modifications

Interior Modifications

Suspension

Modifications

(pages 7, 19, 41) Performance Modifications Audio Upgrades

General Maintenance

Miscellaneous Info

Thank you guys for your encouragement, keen eye, ball busting and banter. Not saying I'm going off the TYF as I still need to keep my Spotter's Thread activity up and see what you lot are doing from

Down Under.

There are many guys on the NBS and NNBS threads that even though we have never met in person, have made this build one of the best learning and fun experiences since I have been able to drive.

I will be sorry to see the Tahoe go...but she will always live on in the Fosscore spirit.
Last edited: