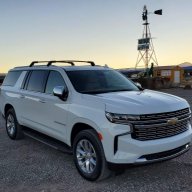 Joined

Jan 19, 2022
Posts

119
Reaction score

62
I have foolishly waited 3 months to get PPF applied to my white suburban and have now picked up a tiny rock chip on the bumper and two small rock chips on the driver's side mirror cap (chrome as it is a premiere). I fear bubbles forming due to the imperfections after the film is applied.
I'm debating swapping the mirror caps prior to getting the film applied to avoid bubbles. I'm not married to the chrome caps and I'd happily put body-colored (white) mirror caps on but the only options available for purchase through Chevy are chrome or black. However, I am not sure if black mirrors will fit in with the rest of the vehicle (premiere has a lot of chrome on it) without doing a chrome delete job (which my wife probably wouldn't let me spring for at this point in addition to the PPF cost).
I'm loathe to pay the cost+install to replace the damaged chrome caps with new chrome caps.
Does anyone know where I may be able to pick up body-colored mirror caps? Otherwise, does anyone have a picture of the black mirror caps they can share?
Last edited: