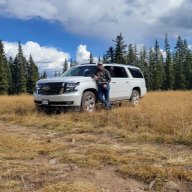 Joined

Oct 6, 2022
Posts

46
Reaction score

55
I now there are plenty of threads on every forum about MPG, but I want to get yalls experience when towing with the 5.3L V8.

I'm about to haul an '82 Chevy K10 that weighs ~4400 pounds on a ~2200 pound trailer, so 6600 pounds in total. I'm driving it from Aspen, CO to White Oak, TX which will be a little over 1000 miles with the route I'm taking. In other words, a lot of mountains, plains, hills, and passes.

When y'all tow trailers around this weight, what do you see for MPG? I'm trying to calculate how much money to budget for gas.

Empty, I usually get 18-23 hand calculated highway MPG in my Suburban, all depending on elevation, speed, and hills.