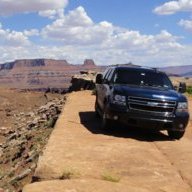 Joined

Aug 10, 2017
Posts

683
Reaction score

1,123
Location
What about the 2500 series Suburbans of that vintage? Do they come with a heavier-duty transmission on top of all the suspension differences between 1500 and 2500 Burbs?

What about the 6.0L engine in the 2500-series? Does it get 13MPG max? And not recommended as a daily driver?
People mistakenly think the 2500 is just a "beefed up" 1500. It's not. Yes, they obviously share the same body, but lift off the body and you have two completely different trucks with virtually no common/shared parts.
The 2500 has the 6L90, and it's so stout that GM even paired it to the diesels in some applications (like cargo vans). Most common failure is the torque converter, which then takes out the transmission. Again, keep the fluid clean and you'll be fine.
I've owned my 2008 2500 for 9 years. I usually drive it like I stole it. If I behave myself, cruise set at 65-70, it'll get 15-16 MPG. And I know my Duratracs cost me 1-2 MPG.
They're fantastic trucks, but very hard to find. GM built less than 6,000 in 2008, and I doubt the numbers went much higher through 2013.
And if you find a good one - rust free, 100k miles, expect to pay $20k or more. I've seen used ones with asking prices as high as $30k.
Daily driver? Sure, if that's your fetish. Mine rides beautifully, like a half-ton, and I have a big, dumb grin on my face every time I'm behind the wheel. I've done as much as 8 straight highway hours in the driver's seat without stopping. But it's a 6500-lb truck with a thirsty 350-hp V8 that's almost 20 feet long. I don't DD mine for two reasons... 1) I have a company car....2) I don't put 'pleasure' miles on it because I know it will be virtually impossible to replace and I only want to put miles on it when I need its capabilities - 7 passenger or 2000-lb payload or cargo space or towing.
Last edited: