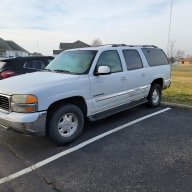 Joined

May 31, 2021
Posts

99
Reaction score

17
Hey y'all.

I've got an 04 Z71 Burb with the Flex 5.3. I was doing some cleaning and checking things out and I noticed some strange wiring. I noticed that a yellow wire on the brown C3 connector of the bcm was cut, and a grey wire was wired to it.

Using alldata I got the diagrams and the connector wasn't pinned properly to what my truck should have. Pin B1 should be yellow "Class 2 Serial Data". I found the grey wire was for the "windshield wiper supply voltage".

I hooked the grey wires back up, and my wipers only work on high. They park like they should and everything else on the switch works. However when I pulled the cowl off my wiper motor connector doesn't have a grey wire, but has two yellow wires. The diagram shows the grey wire. While I was at the junkyard I cut the connector from another Z71 that had the right wiring.

Anyways, I wired in the proper bcm connector for C3 with all wires matching. And when I went to start the truck the cluster wasn't responding, had a security light, abs light, airbag light and battery light. Had no ac, no radio, no windows, no locks, no rear air. But when I cut that class 2 wire, everything came back. I tried scanning it when I had it wired up, and had no communication. Truck ran fine though. I'll attach a picture.

According to the diagram for the computer data lines, the yellow wire goes from the PCM to the bcm. And there's a green wire on C2 at the bcm that's "BCM class 2 serial data".

Question is, why do I have issues when I connect the class 2 data wire? It's supposed to be connected. I don't have any history on things being replaced. So I have no idea what's been done. And also, why do my wipers only work on high with the proper wires connected? They had the wiper supply voltage wire running to the class 2 data yellow bcm wire and the wipers worked fine.

I'm at a loss. I hate when people mess with stuff, and I'm just trying to tidy it up and make everything good again.

Thanks y'all.