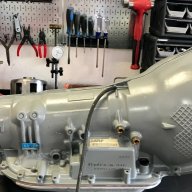 Transmissions
Supporting Member
Joined

Mar 9, 2023
Posts

625
Reaction score

1,399
Location
It's all good. It could always be worse. Is there a good tutorial on swapping out the transmission? All I've ever done is a TH350 on a SBC.
I don't have any but if you've done a TH350 you can do a 4L60e (or any other longitudinal GM transmission for that matter).
Some things you will want for removal and reinstallation:
1. 36" long extension - 1/2 drive (or a combination of 1/2 drive extensions that give you between 30-40" of length - this will help you get to the bell housing to block bolt at 12 o'clock lot easier
2. 15mm wobble socket 1/2 drive - see above
3. Trans jack
4. pry bar
5. 90 or 45 degree pick - needed to remove the little retainer clips for the QD cooler line fittings
6. Other sockets, ratchets, wrenches, basic tools
7. Good 1/2 inch drive impact (air or battery)
- There will be two or three bolts that also have studs w/13mm nuts to retain things like the dip stick so have a 13mm socket handy as well.
- You will likely need to let the transmission dangle so you can remove the clips retaining the cooler lines into the fittings...don't leave it dangle too long as it will stress the motor mounts
- Change out the trans mount if it's worn - a worn rear trans mount can cause vibrations that can lead to rear gear train failure if left unaddressed.
- If I think of anything else, I'll edit this post...others may also chime in w/more tips and pointers.