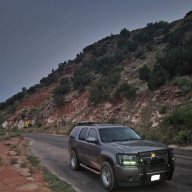 Joined

Jan 13, 2023
Posts

36
Reaction score

55
I have a 2011 Tahoe, and with the current tires that use 35psi, all is well with the TPMS. However, I am about to set it up with a set of higher load rated tires that run at a higher pressure.

How do I tell the TPMS computer that the higher pressure is correct? I have 4 new sensors to go in the new wheels, and i i have watched a number of videos on how to get the sensors recognized by the system. But none of that seems to address the issue of higher than 35psi tires?

On my older suburban, i ran LT tires and commonly kept them inflated to 50psi when the max rating on the sidewall stated that 60psi was the limit. those tires wore well, and lasted a good time.

My new tires are also LT, they have not arrived yet so i dont know what max is on the sidewall. I would guess that i will still run at 50psi

how can i setup the TPMS to reflect this?