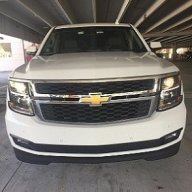 Staff member
Super Moderator
Supporting Member
Joined

Dec 8, 2016
Posts

3,382
Reaction score

3,534
Off topic but I live in Fresh Meadows Queens and have a home in Golden Beach which is in dade-broward county line. I also grew up the and spent my first 23 years in Florida. I also travel back and forth a couple times a year. Where in dade and queens you stay?
In the Ditmars area. Used to eat breakfast at Mike's Diner a lot. Went belly up unfortunately recently. In Miami Beach by 9th and Alton. Hate it there.
My place I was renting in Queens was just sold so this time around I when go there [the week after next for about 4-5 weeks] will be staying at Extended Stay in Secaucus New Jersey as it is quick and easy to get into the city. Plus I go up to Rockland and Orange County here and there so it easy access to all the highways as it is right off Route 3 next to MetLife Stadium. I am seriously thinking of moving back to Queens/Sunnyside in next year or so. Had enough of South Florida. NYC is a better fit for me then Florida for a number of reasons. I generally go up there 2-3 times a year.
Nice Escalade!