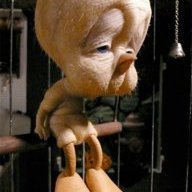 Joined

Jan 23, 2019
Posts

875
Reaction score

1,747
I sort of hate to part with this truck but I need to get something a little heavier duty. It's a basic 1993 GMC C2500 Sierra. Mostly just a basic work truck although it does have an automatic and air conditioning. I bought it out of a barn and I've been happy with it, but while it has heavier springs and brakes than a 1/2 ton, it's a 6 lug semi floating rear.
It has 121,000 on the clock, 350 (5.7 but I'm old and not metric) with the 4L60 transmission and a limited slip rear end. 6 pin trailer connector with a brake controller that isn't hooked up. In another thread I detailed tracking down a progressively worst misfire. While tracking down the problem, I found the timing chain was off 2 teeth so I replaced the timing chain and also the water pump at the same time. It has a new fuel pump and the TBI has been rebuilt too. The first cause of the misfire was a bad distributor and it got worse when the clamp cracked and let the distributor move around.
Now, the warts. Like most of these trucks, I've been chasing bad grounds. Sometimes the radio will power up, but usually not. The original one didn't work but would sometimes power up, but usually not. The paint is like most of this age and mostly fallen off. The front tires are good but the back are getting pretty thin on tread. It does have some rust. Not as bad as most this vintage, the the cab corners (or course) spots on the wheel wells, rocker panels and at least one place on a fender are perforated. When the TBI had to be rebuilt, I flooded the engine and replace most of the plugs but #5,6, and 8 still need replacement. The original manifolds were eat up with rust so I put headers on it and they will need to come off to access the unchanged plugs. The left header is leaking at the join with the block. The seat has a hole that makes you feel like you're sitting in a bucket. It had sat in a barn for years and I thought I had cleaned all the rodent bedding out but I missed some and had a small fire in the heater box. It's not a big hole from it but I still need to seal it up. It does have a slow drain on the battery and will need a jump if it sits for a week.
Now for the good stuff. The 350 sings like a bird. Even with three iffy plugs, it pulls great. The transmission has a slightly hard shift at times but I had it serviced and it's not too bad. The exhaust system was there in spirit only so since I live two blocks from Midas, I had them put a new exhaust on it. 3 inch tube all the way back and little, itty bitty muffler and cat. converter. It sounds goooood!!! (I'll miss that most of all when it's gone.) The interior was really rough but I've been doing a mild custom to fit me better. New headliner, visor shelf and I was going to do some custom wiring. I have a pair of bucket seats out of a Silverado about the same age to replace the bench seat. I started painting it red to get away from bland white and to get some paint on the metal. The brakes have been check and new shocks front and rear. Fresh coolant and new battery about a year ago.
You can ask questions here or through PM. I have a clean and clear Indiana title in my name.
The tail lights in the picture were swapped onto the Escalade in the back ground and new stock units are on the truck now. I planned on having a sharp looking truck as this style just grows on you. Like I said earlier, I need something heavier. Sell or I may trade.