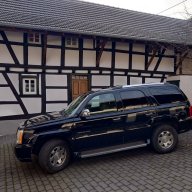 Joined

Nov 19, 2022
Posts

289
Reaction score

548
Location
Hello
I have a problem, maybe someone has an idea.
In the course of rust protection on my car, I removed the battery, air filter box, cooling reservoir, mass air flow sensor and cleaned the engine compartment with the high-pressure cleaner.
However, the car has been parked for at least a week since cleaning so everything should be dryed.
I also changed the spark plugs in the course of the maintenance work.
Now I have started the engine, but it runs audibly only on 7 cylinders. I thought: Maybe I didn't plug in a sparkplug plug properly and checked that. But everything was fine. In my software I could see that the cylinder 2 shows Missfire.
After I found out that General Motors probably counts differently than is usual in Europe, cylinder 2 seems to be the cylinder on the passenger side in front.
I then swapped the spark plug wires from cylinder 2 and cylinder 4, no change.
So I swapped the ignition coils, no change.
So I unplugged the injector from cylinder 2, because I thought maybe there was water in there.
Then I thought to myself: It can't be the new spark plug that's defective, so I unscrewed the spark plug.
The top part fell off when I unscrewed it. The spark plug just broke off at the top.
That of course explains why cylinder 2 isn't running. I then screwed in one of the old spark plugs, but the engine still runs only 7 cylinders, cylinder 2 still shows missfire.
Then I thought to myself: That can't be true : Maybe it's so flooded that it takes a while. I then unscrewed the spark plug, which was also damp, and let the engine run briefly, so that the cylinder could blow itself free. I then hooked the spark plug to the spark plug connector. There is perfect spark. Then I cleaned the spark plug and let the engine run again, it still runs on 7 cylinders.
Same game, then I measured the compression, the compression is a little over 10 bar which should be ok. If the spark plug is wet, then the injector should be running and if the spark plug has spark then it should run.
I also didn't mix up the ignition cables and I'm at the end of my wits right now.
Does anyone have an idea where I can continue looking?
Excuse my English i am from Germany