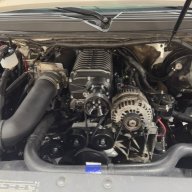 Joined

Aug 2, 2018
Posts

5,530
Reaction score

6,963
I recently had Stabilitrack and ABS dashboard warning lights appear, along with DIC warnings Traction Control Off and ABS Off. I got out my Tech 2, and it told me that I had an issue with the Left Front Wheel Speed Sensor Circuit. I figured that the wheel speed sensor or the speed sensor ring within the hub were either dirty or the wheel speed sensor had simply failed, so I purchased a replacement wheel speed sensor from Rock Auto.

I jacked up the left front end, and I removed the tire (that 305/50x20 wheel/tire combo is freakin heavy!) I found that it was nearly impossible to access the fastening screw of the wheel speed sensor, without first removing the brake disc. So, I removed the entire brake assembly, and I needed PB Blaster, a breaker bar, and a 2 foot pipe extension to loosen the 2 mounting bolts for the brake assembly. Once removed, I was able to remove the disc and have free access to the speed sensor fastening screw.

I removed the speed sensor, and then I used a cloth soaked in alcohol mounted on a thin Allen wrench to clean the speed sensor ring within the wheel hub. It really did not look dirty, but I figured that I might as well clean it, while it was exposed.

I then installed the new speed sensor, and re-attached the disc and entire brake assembly, and mounted the tire.

When I started the truck, the dashboard and DIC warnings were gone. Just to be sure, I connected my Tech 2 and there were no error codes reported.

All in all, it was an easy fix (except for loosening the brake assembly bolts) that took about 2 hours.