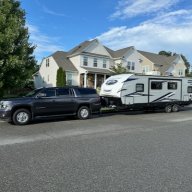 Joined

Feb 16, 2018
Posts

4,597
Reaction score

10,541
Location
@DuraYuk

. I agree. From what I've seen over the years is that the more expensive the vehicle is up front, the more of a beating people take. Use an Escalade Platinum for example. In the short term you will get a better return.

Once the next "new" body style comes our, then the depreciation really starts to kick in and the spread becomes much less. Once you get to the age where your average Joe wants a used car, the Denali badge is a nice addition, not as much of a dictation.

There are certain years where the drive train warrants better resale, but in your case both being diesel should help. In my opinion, the badges and a few little electronics isn't worth 6k to me.
Agreed. These trucks may be the greatest used car value on the planet - especially the higher trims. They'll run 300K miles and hard parts are cheap. No reason to think that will change.
The main thing I suspect most people care about with the Denali is the 6.2 engine. For me it's the only real pass/fail criteria. I'd buy an SLT or even an SLE if it had the 6.2 (or the Duramax), so I would wager that an SLE with the Duramax will fetch a higher resale than a nicely equipped SLT with the 5.3.
My wife and I are hoping to retire early. While we can afford a new one, we are content to let someone else who doesn't enjoy working on their cars like I do to take the depreciation hit. I paid $10K for our 2007 XL Denali 4 years ago and have put 35K relatively trouble-free miles on it. It's a rust-free Arizona truck, has never let us down, and I've gradually been replacing things on it as time allows to help it last us a long time more. I have put about $3K in parts into it accordingly and only have one more investment I plan to make for a while (replace the TC). With any luck, we'll be taking our daughter to college in it in 6 years.
Our 2012 is a dedicated towing rig and stays warm and dry in the garage between camping trips. I'd love to still be driving it in 10 years as retirement nears.
Sorry to the OP for my diversion here. Congrats on your purchase. If you still have whichever one you choose in 10 years, PM me and we'll talk a cash purchase.
Last edited: