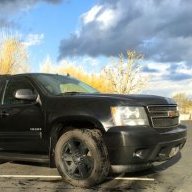 Joined

Jan 30, 2010
Posts

138
Reaction score

43
Might be time for me to consider motor and trans swap/replacement; 323k miles- runs fine, but I'm starting to get nervous on longer trips...My last trip to Death Valley she got a little warm (once) and has been sipping some antifreeze lately. Honestly I have been searching for the next ride as well...but not finding much I actually want to throw money at- or at least the kind of money is being asked for..
So back to considering what sort of options and costs come along with a motor/trans swap...Not looking for 'built motors' or anything fancy. But would definitely think about moving away from the 5.3 to 6.0 or 6.2. The 5.3 is a fine motor but could use more torque. If I had a wish it would be to put 20/21' Diesel in this, but that might be outside of my budget.
But before I pull up to any shop and ask, I thought I'd start here first...
1) given that I like my tahoe and it certainly has more than paid for itself....am I just throwing good money away by considering this route?...is thinking 10k-15K about right for something like this?
2) if not; what is a good approach to going about this; find my own motor and trans for a shop to install?
3) if I upgrade to 6.0 or 6.2, I'm assuming many of the bolt-on from the 5.3 won't fit/work, correct?
4)Staying with thought 6.0 or 6.2, will I need to a new rear end, torque convertor etc..?
Thanks in advance for all my questions...as you can see I'm still vetting if this is a reasonable route. Josh
*note- all the suspension, arms, shocks, etc were just recently replaced about 10k-20k miles ago.