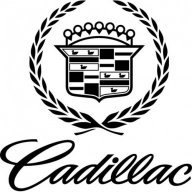 Joined

May 12, 2022
Posts

164
Reaction score

167
Hey folks!
I am new to Tahoes, but not new to GM or to forums. I use the same name on the Impala SS forum. I've had 7 B/D-bodies, and a 5.3 Trailblazer.
I have been in need of hauling capacity for some time now, and it might as well be an LS-powered SUV. When I came across this Tahoe, I knew it was the one. It just felt right.
It's a 2013 PPV, black exterior, fully caged rear (highway patrol K9?), 108k miles on the odometer. RWD and 6L80E, of course. It was owned by one department in Arizona until retirement at the end of 2021. I live in northern Illinois, and am now the second registered owner.
Cosmetically, there are plenty of issues like you would expect from a police car. There are a few dings in the body, a few holes in the interior, and it smells funny. It has been freshly repainted, and we know how government paint jobs go (pretty much yes/no, pass/fail).
Sacrificing on those things got me a few things that I consider more important. For one, there is ZERO rust on this thing. It's mechanically solid, and I think I got a good deal on it. Obviously the RWD makes it less desirable to some buyers in this area, and the caged rear makes it less desirable to anyone looking to haul kids, etc. I paid $13,250 before tax, title, and plates.
The first orders of business were removing the spotlight and replacing the wheels. It's not that I mind them myself, it's just that I can't stand the constant attention.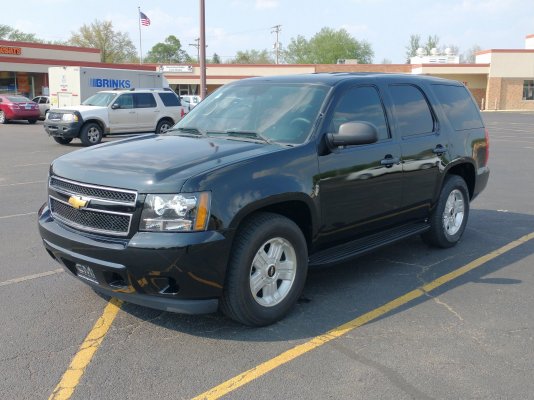 I really like the police seats, console, and rubber floors, so those will stay. The rear portion of the vehicle will stay mostly the same, although I am already eyeballing the molded plastic second row for some sort of audio adventure. It looks like a sub box, or at least something to mount speakers in.
Speaking of audio, I am currently wasting a bunch of time fiddling with lousy OEM equipment. I pulled a "premium" radio from a 2012 Malibu LTZ, which looks basically the same as the radio in the Tahoe, except with a USB port in addition to the aux port. It also has bluetooth, and it's silver in color, which matches the PPV interior trim. The harness connectors are the same, but I figured out pretty quickly that they are pinned very differently. I'm re-pinning my OEM harness so it connects properly to the Malibu head unit, and I've got three wires left in the Tahoe OEM stereo harness that I haven't identified. I think at least one or two of them have to be for the chime stuff, but I have no idea which is which. I'm left with a dark green wire, a yellow wire, and a white wire. The Malibu has two dark green wires for GMLAN, and that's pretty much where I'm at now.
I've got a bunch of speakers and subs to use up, and I grabbed a couple of OEM amps from the junkyard. I'm just patching together a cheap system. BTW, if anyone happens to be knowledgeable on the various OEM Pioneer subs that were offered in late-model GM vehicles, I would appreciate some guidance. Over a period of months, in three separate incidents, I have pulled two subs and an OEM enclosure from different vehicles that I mistakenly thought were all "the same".
Additionally, independent of the Malibu stuff, I've also been doing some ghetto experimentation with the chime setup in our cars. It seems to me that you can actually leave the case from your factory radio in the dash, with the "board" still intact. With no face plate or disc drive, there is plenty of space to mount an aftermarket head unit directly inside the factory radio case with a standard mounting kit. And, if I'm being honest, I don't see how it's any more ghetto than the goofy chime retention module that seems to be the only alternative. Why not just skip it? If I run into any kind of roadblock with running the chime through the Malibu head unit, I will probably just remove the board from the factory case and mount it remotely inside the dash or console and then forget about it.
More nonsense to come!
Matt
Last edited: