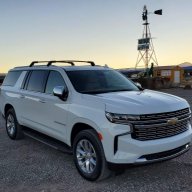 Joined

Jan 19, 2022
Posts

119
Reaction score

62
Just had Curt Spectrum Brake Controller (51170) installed by the dealer on 23 suburban this is the dealer-endorsed aftermarket controller (sold on GM's accessory site).

I'm getting a loud click noise when I depress the brake (no trailer attached). Subsequently pressing the brake soon after the click doesn't cause another click sound. Click comes back after not braking for a minute.

My hunch is it's sending a signal but I've not had a brake controller before this vehicle so I'm not totally sure. Google doesn't turn up much for a clicking sound but the one result I can find for another controller indicates the click isn't normal...

Has anyone with this controller encountered this or know what it's doing?