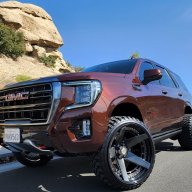 Joined

Jan 19, 2022
Posts

382
Reaction score

327
Location
First off... My truck, my rules. That's all that matters.

I've been eying these 4Play 4PF5's for years but didn't want to commit to them for ridiculous reasons (didn't offer them in 26x14). I eventually circled back to them over several months, because I didn't want to commit to a 35 tire and have to lift the vehicle above a 2 inch leveling kit. So 33's it was... I also wanted an aggressive M/T because I liked the look, so these Atturo Trail Blades were as aggressive as they came.

I ordered everything online, so the wheels and tires arrived today. I'll be doing a test fitting to see "if" and how much modification I may need to do to the fender liner. The tire size is a 13.50 wide going on a 14 wide, so I may or may not get a little bit of the stretched look - which I'm fine with. It might even help with not having to do much NorCal modifications to the fender liner. Either way, I'm committed. I chose these wheels because they're a two-piece forged wheel, and the style is like no other wheels out there. And I hate those highly advertised and popular cheap wheels that everyone gets... because everyone has them. Mostly my reasons for choosing this 4Play wheel is because the blades of the spokes slightly resemble the C-pillar when you see them at an angle, so they complement each other almost as if they were made for this vehicle.

The hub of the wheels come machined with a tinted clear, while the barrel is tinted on the inside barrel and polished on the outer barrel. My plan is to powder coat the barrels gloss black, the spokes mat black, and leave the "ladders" that tinted clear. That should work well with the factory mat chrome surrounding the grill and tailgate trim... I'm not planning to do any serious offroading, or trail blazing with these wheels. I like the look, I want something different that stands out, and it's my truck, with my rules...

I'll post more pictures as I progress along... Depending on the powder coater's schedule, I'm estimating this to be a 3 to 4 week-long project until they're on the truck.
Last edited: