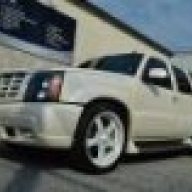 Joined

Jul 23, 2012
Posts

1,709
Reaction score

473
Well as some of u may know... i own a forum called LTXtech.com. Much like this community we have a family feel that makes for more enjoyable communications and gtgs...etc.
Well as i do on my forum, i would like to try something here first... before giving my money to a business.
Im going to be lowering my 2002 Cadillac Escalade,
and I intend to purchase all that it requires from a vendor here on the forum. (Thats the idea, right... to support the people who support the site).
Well although I am very mechanically inclined, a health issue which has plagued me for the past 3+ years and will for the rest of my life, my abilities have been reduced heavily.
With that being said... are their sny members... or member businesses who are familiar with the work required that would be interested in doing the work for me?
I would allow for the truck to be taken and we would discuss cost and time needed to complete the job.
Im not trying to cheap out... i would just like to support those who support as I am with the parts.
If you are interested, let me know here or by PM and we can make the arrangements.
Thread discussing what I will be purchasing;
http://www.tahoeyukonforum.com/forum/showthread.php?t=73134
Thanku in advance
Larry
LTXtech.com is my Drug...