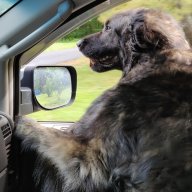 Joined

Apr 13, 2021
Posts

959
Reaction score

1,831
Location
Installed the hub-centric adapters I've had since last summer. My Nissan/winter wheels have the identical hub dimensions and bolt pattern as my Corporate Motors hubs, but the Black Rhino wheels that came on this truck have like some huge 120mm center bore, and the idiot that bought them thought it was fine to rest the entire weight of the vehicle on the wheel studs.
I had ordered hub-centric adapters but the were too thick, and then winter came so I forgot about them until I swapped my wheels over the other day.
The adapters had an exterior flange that was preventing them from seating all the way so I filed them down by hand.
But, they were too thick, and prevented the wheel from making contact with the rotor. So I found a dude with a lathe who took 0.145" off the thickness for free. (My neighbor owed him a favor, so now I owe my neighbor a favor).
Now they fit, and I won't worry as much about dying.
Torqued the nuts to industry-standard™, put my mum on speed-dial, and went for rip up to evasion speeds down by the local farm stand, and didn't feel any wobbles. Time for a beer.