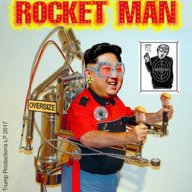 Joined

Dec 25, 2014
Posts

25,502
Reaction score

49,017
Location
I think that one you were trying with is dual-layered. I don't bother messing with the factory grommets. It's just not worth the hassle or risk of nicking a wire or causing a leak. Bring a piece of your power wire to an auto parts store or hardware store (Home Depot, Lowe's, etc.) and look for a grommet like this:

View attachment 399938

You want one that fits firmly on the jacket of your power wire. Here's mine where I ran it through the floorboard, near one of the right rear seat mounts:

View attachment 399939

I drilled the hole to the OD of the recess in the grommet ("PANEL HOLE DIAMETER" in the following image), cleaned the drilling burrs from around the edge of the hole then painted the metal and let it fully dry. The wire needed a little spritz of lubricant ever so often to slide through the grommet cuz it was a firm fit. Which, is what you want for proper sealing.

View attachment 399947

"OCD" you say?

View attachment 399940 View attachment 399941

Not directly. The seats are bolted to the cab floor, to sheet metal. A circuit needs to have the same ampacity throughout all of its conductors. Otherwise, the ampacity of the smallest (weakest) point will be the circuit's maximum. The battery is grounded to the frame. The body (sheet metal) is grounded to the frame with some rather electrically weak cables. You can ground that amp to sheet metal or to seat frames, etc. that are bolted to the same sheet metal, but that sheet metal needs a matching ground to the frame. So, you'd need an 8 gauge ground from the body's sheet metal to the frame or engine block. I have a 4 gauge ground from the body to the engine block, which is grounded to the frame with 1/0. It's actually the original factory main ground that went from the battery to the engine block, just relocated to the sheet metal:

View attachment 399942

It's a good ground, but still to the body. The body-to-battery (or frame or engine) needs to be at least 8 gauge.

Honestly, it's all

probably

okay. But, there's still room for doubt. For the minimal cost of ensuring your grounds are sufficient, you can ensure the amp won't be starved of power, minimizing its heat and how hard it'll have to work which maximizes its life.
You really should upgrade to low-profile cable ties. They're so much cleaner looking.
I can't get an Amazon link for some reason ( what happened to their link button?) but here's a screenshot and a pic of some I used. I really like how they lay flat and look more like a small strap.