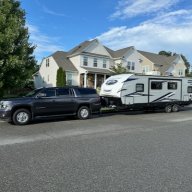 Joined

Feb 16, 2018
Posts

4,618
Reaction score

10,573
Location
I guess when I pull the cover I'll know if there's a gasket or rtv was used. I'm hoping gasket so I can re-use it. Otherwise I'll have to clean it up really good and use RTV to put it back on, which I've never done. And, it'll be in a cold garage - which I read you should only use RTV in temps 65 degrees or higher. That might be April before I can use it..lol..it's going to be only 25 degrees for a high for awhile here in Nebraska...
Ah, Midwest winters! I don't miss that when there's work to do on the car.
Why not order a gasket from Rockauto to have on hand for the job just in case the one that's there is trashed? My guess is that whoever pulled the diff just added RTV to the gasket to prevent a comeback (totally unnecessary). I'm 100% sure that the rear diff cover uses a gasket on your rig and not just RTV.