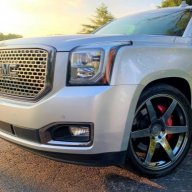 Joined

Jul 18, 2017
Posts

940
Reaction score

662
The suggestions above for engine, transmission, any differentials, and transfer case are good ones. They're big ticket items to repair/replace when they go bad.

I'm pretty sure you have the L83 5.3L with the 6L90e 6 speed transmission. There are plenty of shops that rebuild the 6L90e and are able to rebuild it to be stronger than OEM. Since you're planning to do a full AFM delete with cam etc. chances are likely you may choose a mild cam that offers a bit more usable power than stock, so an upgraded transmission and upgraded torque converter when that time comes will be a better idea than replacing it with another OEM transmission and torque converter.

Since it's hypothetic let's make some other assumptions based on your post:
1. You continue to do oil changes every 4-5K miles.
2. You have a plan to do the full mechanical delete of the AFM before 100K miles.
3. You are following the GM "Severe" Maintenance schedule on your fluid changes for your major drive train parts.

Front Driver Leather Seat - The whole thing unbolt it and take it with you.
This is bound to show it's age the most and potentially have cracked/excessively worn leather. Because there's no way to shoot for 300K-500K miles without sitting and getting in and out of your leather driver's seat.

I'm going to count these as "one thing" even though it's 4 pieces: All 4 Doors including interior door panels - unbolt them from the hinges make sure they are completely dry, wrap them in bubble wrap and store them safely.

GM Trucks/SUV's are notoriously known to form rust along the bottom lower edge of the doors around the pinch welds and around the wheel well openings of the rear quarter panels (removing a rear quarter panel is not an easy "unbolt" "pick a part" task). Completely replacing the doors with new ones that are already the same color as your rig (since it's your exact truck) will be significantly easier and cheaper than paying a body shop to replace door skins and paint. And since you would have the whole door to include the interior door panel you have extra things on there like glass, window motors, and switches that can get worn/break due to excessive use, and having the whole door makes this a simple remove and reinstall door replacement.

I think the verdict is still out on if the door rust situation has improved much with the K2XX trucks as they are only approaching 8+ years in age. Personally, miles and maintenance doesn't scare me, rust does.

I'm torn on the last item: Front Diff, transfer case, or short block.

Front diff OR Transfer case - because they're expensive. But we don't even know if your rig is 4WD so the front diff and transfer case may not apply.

Short Block - No need for long block because you're doing a mechanical AFM delete that will change and "refresh" the top end of your motor. So short block would only be needed if you wanted to slow roll a build of that or just have a spare in case something happens. On the other hand lightly used L83 5.3L short blocks are not hard to find.

That's my 2 cents!