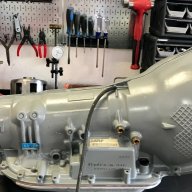 Transmissions
Supporting Member
Joined

Mar 9, 2023
Posts

523
Reaction score

1,176
Location
Hi, I'm new to this forum. I have a 2016 Chevy Tahoe with 83,000 miles. At the end of April, I noticed that my truck would stutter/shudder/vibrate at certain speeds while accelerating, but it never set a code. I initially thought it was bad fuel, so I took the truck to my dealership where I purchased the truck in 2019 as a certified pre-owned vehicle. I was told that it was an "engine misfire" with a code of P0300 and that I needed a throttle bottle service, fuel injection service, and a fuel quality/methanol check. I was told that if I did not get the repair done, "it will continue to run the way it is and can affect the motor." The bill for this repair would be $762 plus tax. Thankfully, I decided to get a second opinion. I took my Tahoe to a local auto repair shop and what they found was quite a shock to me. They told me that my torque converter was faulty and that it needed to be replaced. They told me that this was a "common issue" found in GM vehicles ranging from 2015-2019 and that there is a Technical Service Bulletin on it as well as some class-action lawsuits. After doing some research on the internet, I found countless truck forums with GM owners complaining of this issue on trucks with 110,000 or less just like mine.
The auto shop recommended I take the truck to a transmission shop - the guy there totally rebuilt my trans to eliminate all the GM "weak links" and put in a stronger torque converter. Problem solved! Set me back $5,000!! I couldn't believe what my dealership was trying to sell me. I am so disappointed in them. The mechanics who figured out the issue told me my truck is in great shape otherwise and I should be good from here on out.
Good call - glad you found a competent shop...A shop/builder who knows these units can build a much better unit w/all the required updates for less than a reman unit in most cases.
Those converters are junk as they come from the factory but a rebuild w/a .050-.070 converter clutch and stronger stator/owc makes a world of difference. That and a lower thermostat for the trans or deleting it all together.