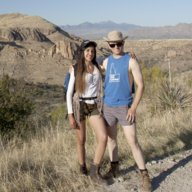 Joined

Dec 28, 2017
Posts

1,721
Reaction score

1,114
Location
Okay so this is going to be confusing to explain. I also have a video below as well as pictures of what the replacement mount looks like.
There's a profile / ramp where the spring seats on it. This ramp floats. It didn't on the factory mounts. I'm wondering if my springs is oriented incorrectly and causing the car to pull to the side.
I've rebuilt struts on more cars than I can remember... Done possibly a dozen of them or more? I've never had the alignment go so bad as with this car. I've actually never had to get the car aligned again after replacing them before.
Really has me second guessing myself if I have to tear these new struts down again and clock that spring more precisely on the mounts?
I'd just have it aligned but alignments here went from $60 to $150
Part on left is the ramp which meets the spring and floats. The factory mounts I replaced had that fixed to the upper mount. It didn't float.