Joined

Mar 20, 2014
Posts

794
Reaction score

106
Well, I haven't had much time to be on here lately, but since I've got a new Yukon, it's time to hang back around for a bit.
I had my old one all fixed up but I was just ready for a new one. We needed more room and with the $3500 Select cash deal going on, I got $13,500 off sticker on a 16 XL Denali and I just couldn't pass it up. Bought it from Laura again and they were great. They had EXACTLY (HUD, wheels, color, etc) what I was going to order in stock, it had just came in with a late April production date, and it is PERFECT. 8 miles on it when I got there. No noises, no annoying transfer case control module squeak, no wind noise, no seat shirt, no "buffeting" (none of that on my other one either). It hadn't spent any time on the lot so no tire kickers, test drives, paint scuffs, etc.
My white one was an early 2015 (It was built in April 2014) so I had it exactly 2 years and a few days. The 2016 has a LOT of upgrades over the early 2015 - Automatic liftgate, automatic high beams, lane keep assist, wireless phone charging, Android Auto, 8 speed trans, CAPLESS FUEL FILL!!!, etc.
When all the math was done, You take the difference in the MSRP of my 15 Yukon and my 16 XL and I drove the white one 2 years and 25k miles for only $6,000.00. I paid 6k plus the difference in MSRP to trade. That's $250 per month. Beat that lease fan club.
The black 16 is a beat, I LOVE the wheels. I also appreciate the 2 tvs in the XL. That's another $1000 right there basically if I did the upgrade.
I had to purchase all new Husky mats, had to redo the running board lights, had to hardwire the V1 and dashcam, install the tow hooks and swap out the front bumper fascia. I about crapped my pants that Laura had already installed a front license plate. Thankfully, it mounts to the fascia that the tow hooks go through so I had to change that out anyway! My old Yukon had the HMI mod done where I pulled it out and shipped it off but that was WAY too much trouble. I just bought the plug and play kit from camera source and it works great. Only thing left to do is to take it to get the 2 front windows tinted and get another clear bra. I am NOT paying $1400 for the xpel again as it didn't make a pennies worth of difference when I traded the white one off. I bought a DIY $80 off ebay, worst case I pull it off and throw it in the garbage if it looks bad.
Lastly - anyone want a NICE short Denali, Laura has mine for sale for $54,995. Perfect, looks like brand new. ZERO damage, no rock chips, perfect. 10/10. Still has the xpel on it, tinted windows, HMI unlock, running board lights. <<-- they don't even know about this. Worst part was I JUST put on a $1600 set of Michelin Defender LTX MS tires on it 1k miles ago before the new car bug bit me.
Also, I have a black Husky weather beater 3rd row and a black Husky weatherbeater cargo mat available for sale for a short Yukon/Tahoe/Escalade if anyone wants one.
SOOOO..... is the old crew still here? I haven't been on here steady in nearly a year and a half and it looks sort of like not many posts anymore. Back in the day there would be an entire page a day, now it looks good to be a thread a day... What happened?!?!?!
Pics:
View attachment 62787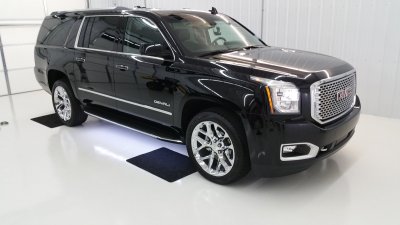 Last edited: