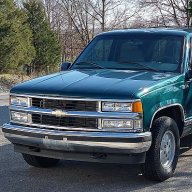 Joined

Mar 23, 2023
Posts

197
Reaction score

277
I don't see just a general general discussion section , so I'll post this here.

On another thread, I mentioned summer road trips around the country in a '62 Impala. Among other things, there was a pump up gas stove. I guess it was before the times of portable propane stoves and small cylinders. Used a small gasoline tank with a pump rod to pressurize gas for the burners. Had to carry a can of gasoline too. Probably not the safest in the trunk with a car full of people.

There were small boxes of cereal singles. One side was perforated to open where you just poured milk in and ate out of the box like a bowl.

Roadside Mom & Pop motels were everywhere, sometimes in clusters around tourist areas. Rates were $20 or less per night. I seem to remember some single digit rates too. Some had kitchens, but not all.

Billboards like 'See Rock City' were everywhere, sometimes hundreds of miles from the attraction they advertised. Then there were the Burma Shave signs.

We really did See The USA in our Chevrolet.