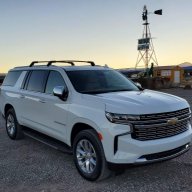 Joined

Jan 19, 2022
Posts

119
Reaction score

62
Does anyone else have OEM speakers that put out very little volume on default settings (Fader set at center point)?

My 23 Suburban premiere rear speakers are almost inaudible unless I turn the volume up pretty high or else put the fader almost all the way to the rear (all the way to the rear turns off the front sub). My kids are always asking me to turn the volume up for music or audiobooks. With the fade point set to the back, I then have to pump the volume up to get to normal listening levels in the front and have "full-car" sound.

Is this everyone else's experience?

Hoping it's just my speakers aren't wired correctly and need to be fixed rather than a poorly-designed system.