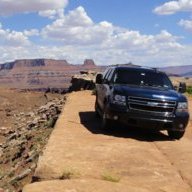 Joined

Aug 10, 2017
Posts

724
Reaction score

1,214
Location
I've towed several different 4K lb campers in the Rocky Mountains (Denver to Western Slope, multiple high passes) for several years now and haven't needed the conversion to keep the engine cool. If the rest of your cooling system is good, the non-efan should work fine.
I tow an 8600-lb trailer with my Suburban. It's been through the Eisenhower Tunnel (11,000') and over Powder River Pass (9666') multiple times.
Parked at Wall Drug:
E-fans will NOT help when towing at highway speed. The primary benefit is better cooling at idle speeds, particularly in terms of the A/C performance. Someone who lives in the South and doesn't tow a lot? Probably a good candidate for an E-fan swap.
One of my customers is a Tier 1 supplier who makes mechanical fan clutches for cars and light-duty trucks. Yes, there was a big push to E-fans in the late 2000s. You know what the OEMs found out? E-fans suck for cooling under high loads.
Yes, the 2500s have mechanical fans. Because mechanical fans simply work better for heavier-duty applications. And the ONLY time I hear the "roar" is when I'm towing heavy in the summer. And rarely does the A/C go warm at idle.
My 09 Denali has the E-fans.
Underhood of my Suburban :