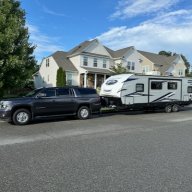 Joined

Feb 16, 2018
Posts

4,589
Reaction score

10,528
Location
Update? On my way home today my traction control, stabilitrak and ABS light came on. Guess I am taking it to a mechanic anyways.
That's a common indication of the engine not running quite right because the Stabilitrak system requires proper powertrain functioning in order to remain active. In my case it was high fuel pressure caused by a failing fuel pressure regulator that triggered it, but a good code reader that can read all of the modules will give you the clues for what triggered it in your case.
Frustrating that shops don't listen to their customers. Seems especially common for women and that sucks.
One other thought about the smoke you're seeing: A leaking valve stem seal can cause intermittent blue smoke out the tailpipe. Had that happen after my first cam swap. But my best guess for white smoke is a cracked cylinder head or leaking head gasket if it's accompanied by any coolant loss.