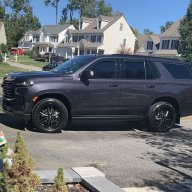 Joined

Dec 22, 2021
Posts

220
Reaction score

233
First off, wow, what a difference.

I'll be honest when I say that this is what I was expecting in the first place when I ordered the 6.2.

Even in city mode, the difference is enormous. In sport plus +4, you actually have to be careful NOT to chirp the tires, even going straight. Around a corner, it's easy to leave marks.

Personally, I think I like sport plus +1. It's enough to throw you back in your seat at will, but not so much that it's hard not to chirp around corner.

Without the PC, from a standstill, if stomping the gas the lag is about 1.5 seconds.

With the PC, it's non-existent.

Highly recommend. This actually feels like a real sports truck now. It's so much more fun to drive. Also, Bluetooth integration makes it easy to switch modes back to city mode or eco if you are more interested in gas mileage.

I will say it's a VERY noticeable different in mpg in sport plus mode. Looks like around 12mpg just on country backroads.