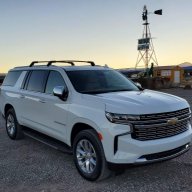 Joined

Jan 19, 2022
Posts

119
Reaction score

62
Hi everyone. Long time lurker... finally created an account. I would be surprised if there are any hardware constraints to upgrade the '21 to the '22 infotainment version. So, it would be unfortunate if GM lets relatively new vehicles lag on the latest software capabilities as an upgrade forcing-function. Look at the newer market entrants like Tesla and Rivian who regularly upgrade most of their fleet, so long as the hardware supports it. The infotainment in the '21s leave a lot to be desired. From what I've seen from the '22-'23s, having app access in the back seat would be huge, as Miracast is a joke. My Denali XL is a 2021, so I'm hoping to see some movement on this. I may call the dealer, but I suspect they won't know anymore than we would.
In case you're unaware, the app access in the RSE in 2022+ does not work at this point. They have the icons but nothing happens when you click. Miracast and USB playback are also both gone in 2022+ so the only way you're watching anything in the rear seat is through HDMI pass through (playing off a tablet, Roku, amazon firestick, etc).
Hopefully GM/Google enables it at some point but, for now, those app icons are a marketing mirage/bait and switch.