Joined

Dec 21, 2016
Posts

1,485
Reaction score

1,223
Location
There are a couple of things that I'd check first.
On all but high speeds, power goes through the resistor and then to the relay.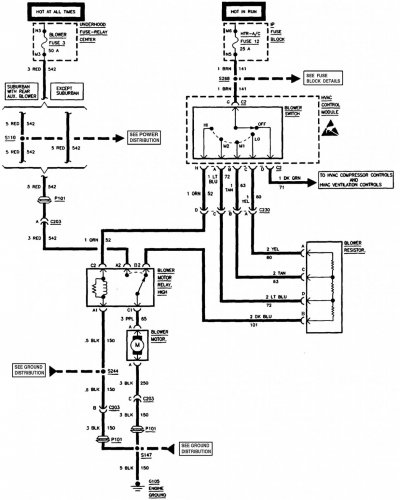 Disconnect the connector at the resistor and check for voltage at the yellow, tan and light blue terminals using the chassis as a ground. The metal dash support bar would suffice. You should get 12V on each wire at corresponding blower speeds. Yellow is low, tan is medium 1, light blue is medium 2.
If that doesn't check out, I'd replace the blower switch at the panel since you said that it's connector is not melted. Pull the fan knob off and the switch just snaps into the control panel. The panel itself is really independent of the blower other than the plastic connecting it.
If you do get voltage at the resistor connector for the first three speeds, then the blower switch is good. Put it back together and pull the connector on the high speed relay which is next to it. Check for voltage (it will vary) for each fan speed at the blue connector.
If it's good, then the resistor is good. If it isn't, replace the resistor.
If it's good, reconnect the relay and pull the power wire (purple) from the motor. Check for voltage using all fan speeds.
If you only get the 12V and no lower voltage, then the relay is probably the issue. If you do get varied voltage, then I'd swap the blower out.