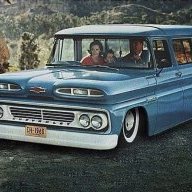 Joined

Jun 4, 2020
Posts

294
Reaction score

130
Location
2004 Vortec 5.3 4x4

It never, ever starts on first try. Cranks, but no start. However, starts right up on the second attempt every time.

Also, truck seems slightly sluggish. It still pulls at WOT, just seemingly not at 100% power.

MPG is a wopping 8.1MPG (confirmed by calculating manually using an MPG app too)… Even when I cruise around in town below 2,000rpm for the entire tank.

@ idle RPM
STFT 2.3+/-
LTFT +4.7 (bank 1) +6.2(bank 2)

@2500 RPM
STFT -4.7
LTFT +7.8 (both banks)


So far, I've replaced the plugs, wires, valve covers, intake air filter, MAF, brakes.

I'll be adding some additives to the next tank to try to clean the fuel system and injectors, as well as replace the fuel filter.

Wondering if anyone has any idea of what else it could be?
Last edited: