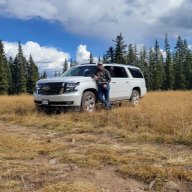 Joined

Oct 6, 2022
Posts

46
Reaction score

55
I know there are people who have talked about what they've towed, but I wanted to share my experience towing a fairly heavy trailer over a 7 hour trip.
Vehicle is a '17 Chevrolet Suburban Premier 4x4 with 91k on it. D
It does have magneride/air suspension and the Max Trailer Package. Only mods I have is a 2.5"/1.5" leveling kit and I upgraded to 10-PLY 33" tires. Nothing performance related.
Trailer in mention was a 20' x 83" tandem axle trailer hauling a 1982 Chevrolet K10 shortwide I bought off of my buddy. There was NO weight distribution hitch.
I stopped at a CAT scale and weighed myself at 13,860 pounds with 7780 lb pounds on the vehicle and 6040 lb on the trailer. I realized I had too much tongue weight, but went with it anyway.
Trip was from Casper, WY to Snowmass Village, CO, which is approximately 390 miles.
Air suspension kept it riding well and prevented it from sagging. Even with a high tongue weight, it kept it solid and didn't bounce uncontrollably.
On the downhills, tow/haul would automatically downshift to help hold on hills, and I used the trailer brakes. If I used the vehicle brakes on steep downhills, it would start to squirm a bit, so I kept with trailer brakes.
I haven't done the thermostat/pill flip thing other people have on these trans, but the trans fluid temp never got above 200° towing it. I was surprised.
Power...well it's a 5.3L. It comfortably pulled at 70 mph, but would struggle on the uphill, especially because the transmission didn't want to downshift enough to throw the revs up. I assume it was a safety thing since it doesn't do that normally.
I hand calculated the MPG and hovered between 9.8 MPG and 12.2 MPG depending on hills.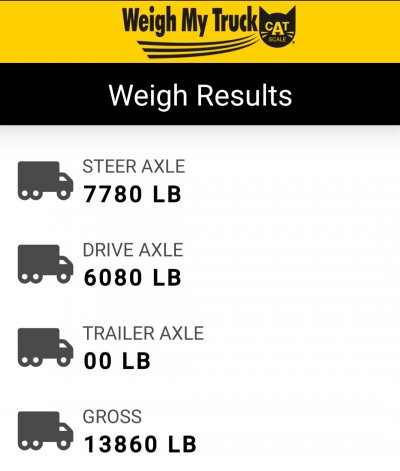 Overall, I wish it had more power and gears like a '18+ Denali, but I wouldn't hesitate to haul weight like that through the mountains again. It may have pulled it slow, but it pulled it safely and very controlled.