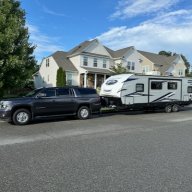 Joined

Feb 16, 2018
Posts

4,624
Reaction score

10,587
Location
I'll be replacing the oil pressure sensor for sure while I've got it apart! Thanks Geotrash!

I found that my rear shocks are blown(air shocks), and while I've been exploring in the engine bay found that the front shock electrical? connectors are no longer connected to the front shocks (up at the top I'm assuming), and the front shocks have coil springs on them. I'm assuming the front shocks do Not come with coils so someone already converted the front to non air suspension?

Also found it doesn't have a front sway bar, and someone snapped the mount bolts off on the passenger side for the sways, so thats going to be a very fun fix!
The front suspension is always coil spring on these trucks, even when you have air suspension in the rear. It's possible that the previous owner replaced the front shocks with passive shocks and installed resistors to avoid the service suspension warning message. If you can snap a picture of the front strut cartridges, we can help you identify them perhaps.
I can't imagine driving one of these without a front sway bar. That's a big deal. Those bolts use the friction nut plate, so you may end up having to drill it out and change the threads with a tap. Sucks man, I'm sorry.