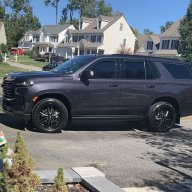 Joined

Dec 22, 2021
Posts

220
Reaction score

233
It works as advertised and I am happy with it so far. Played videos seemlessly on the main infotainment screen. You can also download, install and use any application from the play store.

That said, I have a couple of notes for using it in my 2022 Tahoe High Country. I do NOT have rear entertainment, so I can't answer any questions about that.

1.) it doesn't remove the factory infortainment buttons "wrap" on the touchscreen, so video being played is in a smaller window that it could otherwise be. Annoying

2.) it doesn't help with waze not displaying on the HUD or digital dash. It works fine on the main screen, although the audio is a little choppy. I prefer waze on my phone's CarPlay (I also use the built in integrated Google maps at the same time so that I get directions on my HUD)

3.) It acts as a stand alone device, rather than an extension of your phone, like a tablet would. It also seems to only use a Google account, and I'm an iPhone user, which is a little inconvenient for getting logged into my apps. Maybe I'm just overlooking something though.

More notes as I discover more.