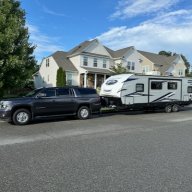 Joined

Feb 16, 2018
Posts

2,517
Reaction score

4,960
Location
I probably am. The '05 I saw was very nice looking (garage kept), at a 140K miles, decent service records, 1 owner, no accidents, and around $11K.
2012-2014 Tahoes around here are from $20-30K, depending on where one is looking, mileage typically under 100K. So the frugal side of me looks at the $11K vehicle and says, let's save the $10+K. The realistic side says, let's go with the better, quieter ride and spend the little extra.
Ultimately, I am confirming the ride/drive upgrade from '02 to '12 is worth the extra $10K, all else aside.
Hard to beat a well-kept vehicle. And, it's a long-term decision so thoughtfulness is warranted.
As another option, you can get a '07-'08 Denali for under $10K, and they don't have AFM and they also have the 6L80, which is a nice upgrade for towing. I have an '07 as well and it was a 1-owner Arizona vehicle that I paid less then $10K for with 192K on the clock back in January '19. I redid the front suspension, front diff mounts, a valve cover, and a power steering pressure hose in that time, along with a full complement of cooling system belts, hoses and tensioners, and it's been 100% reliable and trouble-free apart from these things, which I consider normal maintenance. It's actually in better shape in many ways than my '12 is with half the mileage on it. So if you can get a dry country Denali, it's a great option.