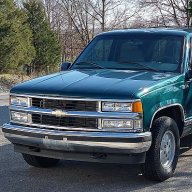 Joined

Mar 23, 2023
Posts

325
Reaction score

437
Guess I'm trying to learn about the vehicles in general and what problems I might expect someday. But one thing jumps out. Y'all talk about swapping major internal parts like cams and lifters or rebuilding transmissions or transfers cases as if it's as simple as changing a headlight.

I guess it's practice, but not something I'd ever have considered. We didn't have that kind of shop class in school and I don't know if high schools do it these days or not. Maybe the biggest thing I ever did was a tune up or changing shocks. And last time I changed a shock I cam too close to losing an arm to consider ever doing it again.

I have tools and things that resemble tools, but not the specialized stuff. I wouldn't even try to open a lawn mower engine.